TGA Premier Youth Tennis Adds Five New Franchises in Texas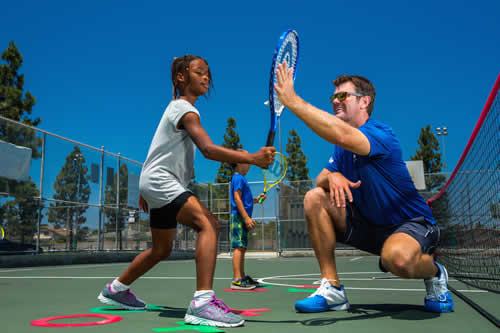 TGA Premier Youth Tennis Adds Five New Franchises in Texas
Innovative community based tennis delivery model accelerates national growth
Los Angeles, CA – TGA Premier Youth Tennis (TGA), one of the nation's leading introductory and recreational tennis programs, is accelerating its national growth with five new franchises in the State of Texas. Four will launch in the Dallas markets of Northwest Collin County, South Tarrant County, North Tarrant County and South Denton County and one in the North Houston market.

"Every new TGA tennis chapter creates programming at schools, community centers and tennis facilities that impact students and families through the lifelong sport," TGA CEO Joshua Jacobs said. "TGA believes sports changes lives, and through our new owner's passion for tennis, we will create sustainable tennis programs in Texas that grow the sport in the communities we serve."
TGA's franchise model, developed in partnership with the United States Tennis Association (USTA), delivers grassroots tennis programs through a self-sustaining model to grow the sport for the future and create a healthier and safer environment for students at schools and community centers. The school-based curriculum includes tennis skill progression, education subjects and STEAM Labs, physical fitness and health components. TGA gets kids moving and being active all while improving motor skills and hand-eye coordination.
TGA's successful model is impacting the sport on several levels. First, by bringing introductory tennis programs directly into schools and community centers through before- or after-school enrichment programs, it is putting tennis on a level playing field with other mainstream sports. Second, TGA creates a pathway for students and families from the school programs to recreational programs at tennis facilities that include camps, Play Day Series, as well as USTA Junior Team Tennis and Junior Tournaments. Finally, through its own line of youth tennis racquets, TGA provides age and height customized equipment for all students at no cost, as well as an affordable option to get into the sport.
Through its innovative model and well-designed age and skill appropriate lessons, TGA is providing the tennis industry with increased access points for youth, growing the base of tennis players and participation, as well as providing a new avenue to cultivate elite talent for the future.
TGA's tennis franchises have now grown to 38 chapters across the nation serving more than 750 schools and introducing 45,000 youth (ages 5-13) to the sport.
About TGA Premier Sports
TGA Premier Sports (TGA) is a leading introductory and recreational youth sports programming company specializing in golf, tennis, and soon to be team sports. Through an innovative franchise business model recognized by Entrepreneur Magazine as a "Top 10 Franchise Value," with franchise fees ranging between $16,000 and $40,000, TGA empowers passionate entrepreneurs to impact the lives of youth and families by bringing youth sports enrichment programs into their communities.
TGA franchises can be found in more than 80 markets across 23 states, as well as internationally in Canada and Spain. Its continued growth has impacted 650,000 youth and made these sports available to 1.75 million families. Future expansion strategies include the addition of 100 more franchises over the next two years, the addition of more sports, and impacting another one-million youth through its education based programs and the TGA Sports Foundation, which provides access for all children and promotes the physical, educational, social, and character-building elements of these sports.
For more information on TGA tennis, visit www.playtga.com or follow @tgayouthtennis on Twitter.
For high-resolution images of the TGA tennis program for future stories, click on the link below:
https://www.dropbox.com/sh/jn8scmmmjjzpod7/AAAnKgI4V06JbaQH9zmCZKi3a?dl=0